Greetings!


Welcome to The Baseline, a quarterly report that highlights our clients throughout the year. As a leader and innovator in clinical based marketing for cardiology, Cardiomark's Pocket EKG and Pocket Angiogram Programs are used by hospitals and physician groups nationwide to develop, promote, and expand their cardiovascular service line.

Cardiomark LLC provides the latest marketing strategies and services for growing cardiovascular market share.

We hope you find this to be informative, and appreciate your continued interest and support.

November is Pulmonary Hypertension Awareness Month. Pulmonary hypertension (PH) refers to high blood pressure in the lungs. This condition affects people of all ages and backgrounds. According to the Pulmonary Hypertension Association, one thing PH sufferers have in common is that their condition often goes undiagnosed until it has advanced. However, according to the Association, there are a series of tests that facilitate diagnoses, including an EKG test among others. Now is a great time to begin educating and screening your community for this under-diagnosed condition. For more information on PH please click
here
to visit the Pulmonary Hypertension Association's website or use the contact information below.
Pulmonary Hypertension Association
801 Roeder Road, Suite 400
Silver Spring, MD 20910
(800) 748-7274 Helpline
(301) 565-3004
(301) 565-3994 Fax
pha@phassociation.org
www.phassociation.org
Contact us:

Email:

Phone:
1.800.589.4949

Mail:
Cardiomark LLC
P.O. Box 929
San Luis Obispo, CA
93406

MARIETTA MEMORIAL HOSPITAL USES GRANT FUNDING TO PROMOTE COMMUNITY HEART HEALTH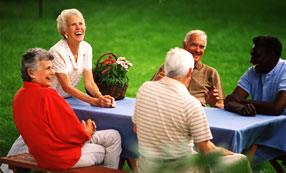 Marietta Memorial Hospital, a 199 bed non-profit organization representing over 37 medical specialties, has a distinguished record of reaching out to the community through events and classes that promote public health. Grant funding, in part, allows the hospital to fulfill this mission. In 2007, Marietta and five other Ohio hospitals received a total of $100,000 in Hospital Wellness Partnership Grants from the Foundation for Healthy Communities to work with local schools, social service agencies and others to promote better health for targeted local populations. Marietta received $20,520 for the hospital's "Know Your Heart Risk: Assessment & Follow-Up" program.

COMMUNITY HEART HEALTH SCREENING STRATEGY
Grant funding is one way to ensure that your community screening campaigns fit into your organization's budget. However, implementing and executing successful screenings is another matter altogether. Working with our clients over the years, we've found that there are some general guidelines that apply rather well to health systems when planning a screening program. Using this information, we've created a community screening link on our website that may be useful to your organization for getting a feel for the planning and leg-work that a screening program entails while maximizing the success of your own campaign. Please click here to learn more about the strategies and tips that lead to a successful screening.
Sincerely,

Lori Keledjian
Cardiomark, LLC